Lionel Richie Talks About "Time" :
"Everything told me that it was time for Time. I look at history and see that generation after generation keeps making the same mistakes. For my grandmother's 100th birthday, I gave her a copy of a newspaper from 1893, and you know what? On the front page the issues were about race wars, poverty, unemployment and the economy! That made me see clearly that nothing has changed." --Lionel Richie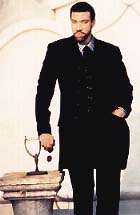 While Lionel Richie is not claiming the ability to change the world, he addresses some of these issues with the songs on his new album, Time. Of course, love plays its part too, and there are tracks here which will fit perfectly in the line up of Richie's previous classic ballads, which have won him an Oscar, a Golden Globe, five Grammies, more than 40 other awards worldwide, and sold in excess of 50 million albums as a solo artist. Whatever the message, whatever the tempo, it's still very much Lionel taking pride in his craft. "I've always approached songwriting as if I were a country preacher," he smiles. "If I'm going to say something, I want it to mean something. The music has got to relate to the way people live their everyday lives."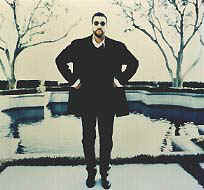 Lionel looked for inspiration for his new album from his family, with his wife Diane and his son, Miles, as well as from his home and family in both Los Angeles and Alabama, and his travels around the world. Through Lionel's brief track by track description of his songs, you can feel his enthusiasm and discover his inspiration.
"Zoomin'"
"That's a song that reflects my state of mind. It's not about leaving the planet but zoomin' away from the state of consciousness we find ourselves in today. We've gotten to the point where we're accepting tragedy as the norm. The message we're sending our kids is horrible, and for generations we've been sending the same message about war and violence as the way to solve our problems. In the songs, I'm just observing what's going on. It's like, when do you accept your fellow human being...I mean, we all live on this planet together, and it's about accepting that sooner rather than later."
"I Hear Your Voice"
"This song is haunting...I wrote it with David Foster and Diane Warren, and we were all in the same 'space' when we collaborated on it. The lyric line is basically saying that no matter how I try to remove myself, how I try to detach, I can hear your voice inside my head. The key to all songs that last is finding a subject that people live by every day. You find a phrase that people really say, like 'I'm stuck on you' or 'I love you truly' or 'I hear your voice.'"
"Touch"
"Now this is a track I really enjoyed doing because it speaks to my R&B roots. It's very simple." The message is elementary and basic, it's like 'I want you, I want your body next to mine.' It's all about straightforward, simple seduction!"

"Forever"
"I wrote this ballad the night before I was about to get married, around Christmas of 1996 in New York. There are commitments, phrases we live by, and in some cases die by. I believe that anyone who has not really loved has been 'suffocated.' Not having the experience of love is like the suffocation of the soul. "Forever" is telling the one you love that you'll always be there. I feel like, as a musical poet, it's my job to find the words that I feel would also be the words someone else would want to say. Yes, this song was expressing my thoughts at the time, the kind of bliss I was feeling."
"Everytime"
"This is confessional! It's about admitting that I can't escape the power of the woman I love. In my own research on the subject of love, I've found that the only way we learn is through our mistakes. As human beings, we usually get love wrong before we get it right. We'll have that jewel in front of us, and we won't show our appreciation for it until it's walking away or it's gone. Personally, I've found that relationships are not 'real' until there is conflict, and they only get stronger through that conflict. This song is all about putting someone through a whole lot of stuff and facing up to it."
"Time"
"The message in this song is simple--what are you gonna do with your life? God is watching us, not in charge of us, and what we do with our lives is up to us. This song follows other tunes I've written like "Zoom" and "This Is Your Life." It's about coming to grips with our own mortality. What made me write this song? I've discovered the glorious side of things, death, tragedy, the ups and downs and that life has a beginning, middle and end. What we do with that middle is our business. It's about looking at what's important in our lives, like wondering did I do anything good, did I learn anything while I was here? "Time" is a reflection on what's happening, where we are and where we're going."
"To The Rhythm"
"I worked with this great young guy, 'The Boogie Man,' who I saw on Showtime At The Apollo. He won the contest four times in a row, and he also won a national poets competition. We represent two generations. By having him on the song, I leveled the playing field--people listen when they hear someone from their own generation. Basically the song is questioning why every generation must keep representing the same thing over and over and expecting a different outcome. That is truly the definition of insanity."

"Stay"
"I think passion and seduction are the key, they are the interesting angles of love. It allows us to tap into little secret doors. Seduction comes in two categories, love and lust! "Stay" is mischievous, the lustful kind! I haven't written like this since "Brick House" back in '77. It's very real. We're human and this song is all about asking someone to stay the night, and there's no doubt about the intention."
"The Way I Feel"
"This is a song that is much like "Three Times a Lady." It's about praise and gratitude, about appreciation. A lot of times, we go through relationships without telling the people we love them and we appreciate them."
The Closest Thing To Heaven
"It's very seldom that I record a song I didn't write, but this one is a Diane Warren song and the title is pretty self-explanatory. Melodically, lyrically, it just felt correct. It's one of those tunes you hear and say to yourself, 'I should have written that."
"Someday"
"Now this song is all about real emotions. It's about hurt, anger and revenge. It's like someone saying I don't like what you said to me and one day you're going to regret it."
"Lady"
"I never planned to record this. I did it last year at a benefit, and I got this incredible reaction. I recorded it afterwards, and when the people at the record label heard it, they insisted that we include it on the album. In fact, I had to take a song off to put "Lady" on here, but I'm happy I did it."
"My first solo album was written at a time of uncertainty for me, having just left the Commodores, and there was a lot of anxiety and emotion in it. I've never liked touring with that sort of stuff. It's hard to go out on stage and just put on a happy face when you don't feel it inside. With "Can't Slow Down," I'd gotten rid of that baggage and the album was the freedom that came after." Lionel Richie draws parallels with that period and now. After his self- imposed six year exile from the business, he recorded Louder Than Words and didn't tour. Instead, he went back to the studio where he wrote Time.
Lionel Richie--it's about.....Time!