THIS IS LONDON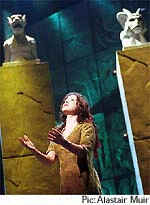 Not all heads turn when Australian superstar Tina Arena arrives at the Groucho Club for our interview, and that suits Ms Filippina Lydia Arena just fine. Down Under, thanks to multi-platinum blockbusters like Don't Ask and In Deep, the 33-year-old from the genteel Melbourne suburb of Moonee Ponds is the biggest selling home-grown female artist ever. So eat your hearts out Kylie, Olivia and Dame Edna. By contrast, in England she's a peripheral figure whose biggest chart success, Chains, occurred back in 1995. "It's great here," she muses. "I can leave my rented house (near Chelsea's Australia-on-the-Green), do the deli, grab a paper and a coffee and walk home looking horrible."
The aptly named Arena (no, she didn't make it up) is rehearsing for her West-End debut in Notre-Dame de Paris, the musical version of Victor Hugo's 1831 novel, often filmed as The Hunchback of Notre Dame. With her extravagant chestnut mane and Sicilian bloodline, she's a natural for the role of Esmerelda, the gipsy beauty who befriends the lonely Quasimodo and rings his bell with tragic consequences.
Arena got the role without even having to audition. "I spent most of 1999 in France 'cos In Deep had done nearly a million units there," she says over lightly puffed Marlboro Lights and cold coffee. "I'm on this TV show called Red Carpet and they're doing a tribute to Notre-Dame with the French writers of the show, Luc Plamondon and Richard Cocciante. Afterwards they asked me to contribute to the soundtrack album. I've dabbled in musical theatre so I said yeah, then they asked me to play Esmerelda. Tell the truth mate, I was shocked and bewildered."
After hesitating for all of two minutes, Arena accepted the offer. And so here she is tugging her hair extensions and rehearsing like crazy for a £4-million English-language production which aims to repeat the staggering success of Notre-Dame in French-speaking Europe, where ticket sales exceeded a million and the 3.5-million-selling soundtrack topped the charts for 17 weeks.
These are facts and figures that Arena understands. A child star at seven, she rose to fame in Australia on the Saturday night TV show Young Talent Time, a gruesome kiddy romp which also spawned Dannii Minogue. Having been retired at 16, Tina cut jingles and temped for the Melbourne Insurance Company before starting her phenomenally successful recording career at 18, when most others would have burned themselves out. "I've had 24 years in this business and I've learned not to put up with bullshit. Failure isn't on my wish list. I wasn't ever going to resort to mediocrity," she emphasises, while thanking her Italian family for keeping her grounded.
Despite her star status Arena is more mainstream than cutting edge. She's never been keen on becoming Australia's answer to Madonna. "I wouldn't mind her bank balance, but I'm not a fan of people who surround themselves with a lot of drama to make themselves feel better. It makes me laugh. I never hung out with the cool crowd. Never ever. I mean, I know Kylie and I knew Michael Hutchence, always got on well, always kept my distance. I'm not seduced by the fantasy because the reality of this business f***s you up pretty hard ..."
Our lady of Melbourne says that the character of Esmerelda resonates in her own life. "This role came along for me at the right time, to educate and teach me some life lessons, especially after coming off a bad personal situation."
Tina is referring to recent divorce proceedings and a messy settlement with former husband and manager Ralph Carr. The split has been a jolly tabloid staple in Australia - especially since her supposed comment to Carr: "I'm Australia's f***ing National Living Treasure ... not you!" While the dust settles Tina says she feels a lot calmer again. "You can't clip my wings. I felt hemmed in for a while and then I realised it wasn't my destiny. If someone else comes along and accepts me unconditionally that's fantastic but relationships aren't about your partner saying this is right or wrong for you. I'm not a big fan of ownership." Arena is now "dating in the plural and enjoying being a single woman".
Notre-Dame de Paris is one of several lavish musicals opening in London this summer (see also The King And I, The Witches of Eastwick and Andrew Lloyd Webber's football vehicle, The Beautiful Game) but it's doubtful that Arena will commit for more than six months, unless Broadway beckons. "I'm glad there's a renaissance for the musical. They've always been considered so daggy but I'm attracted to eclectic stuff that's a little bit kitsch."
Movies would be a natural progression for Arena, still kicking herself after turning down a lead role in Baz Lurhmann's Strictly Ballroom. Meanwhile, her recording career isn't on hold since she's recording her next album in Miami and London. "It will be incredibly brutal and personal; transparently so. It may make uncomfortable listening for somebody. I want it to be naked ... I'm all for putting my balls on the line."
With that Tina bounds off her lunch break, tossing her hair back and complaining that she looks "terrible", when really she knows she looks a million dollars. Australian.
by Max Bell